Outdoor Education
The programme has been successful in helping students gain NGB awards that can be used directly for employment or to support further education and training.
More importantly outdoor education has had a direct impact in extending experience and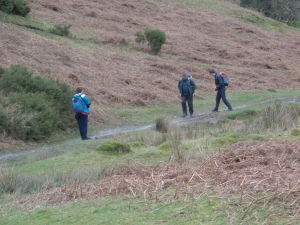 confidence among our students. This has extending the scope of all students both educationally and socially. Outdoor education has been invaluable in promoting self-esteem among students whose lack of has bought them into contact with this service. In all aspects of our outdoor education programme are progressive skill-based activities, where students are given a positive learning situation in which to achieve. The activities students are involved in have helped break the self-fulfilling prophecy of 'I can't, so therefore I won't'.
Students are able to complete a variety of awards offered by the British Canoeing, National Navigation Award Scheme and the John Muir Trust. Additionally, there is a Forest Schools programme and this can include the opportunity for wild camping in a forest environment.
Personal responsibility has been a major feature of outdoor education. Responsibility for equipment, the environment, self and each other are all core values that outdoor education attempts to foster in order to be successful. These are values that have a place within the classroom and the success of the outdoor education programme has seen the students involved succeed academically, socially and progress beyond the expectations of when they first left mainstream school.
Students willingness to take responsibly for themselves and their actions has resulted in greater involvement within their local community. TMBSS students have been involved in activities run by Shrewsbury Canoe Club and several uniformed youth organisations. These are local organisations with whom the service has close links and students join when they wish to extend their activities beyond those provided by the service. Without our students holding true to the values set out above they would not be welcome and would once more become an alienated part of society.
Finally, love and respect of the outdoors and natural environment has perhaps been the greatest contribution that the outdoor education programme has made to TMBSS students. Students are encouraged to appreciate the locations they visit. Local environments, habitats and the species creating them are fully explained. Apart from an atheistic experience this also has provided obvious links to academic subjects.
"…beauty and challenges that have attracted successive generations, and for many people the adventures provided by days in open country are an essential antidote to the pressures of modern living." Steve Long – Mountain Training Trust Staff
Health and Safety
In order to maintain the well-being of pupils, the following document has been adopted.
SHROPSHIRE LOCAL EDUCATION AUTHORITY GUIDELINES FOR EDUCATIONAL VISITS AND JOURNEYS.
Activities that are considered to be 'high risk' (as defined by the document) are notified to the LEA PE/Outdoor Education Advisor for clearance prior to the activity taking place. Risk assessments are produced using the approved format and guidance from the document.
Advice on clothing, equipment and possible consequences of activities is sent to parents along with consent and medical notification forms prior to first participation in the outdoor education programme.
All staff delivering outdoor education hold accredited NGB qualifications and have been externally assessed to national standards. A number of key staff have also worked in the outdoor industry and have regular updates through their NGB.