Food Technology
Food Technology is taught at TMBSS to help the pupils develop their personal development and prepare them for adulthood. We teach pupils what is meant by a healthy diet and how to cook some basic nutritious meals in a safe way so that they could cook for themselves and be able to live independently as young adults.
Key Stage 3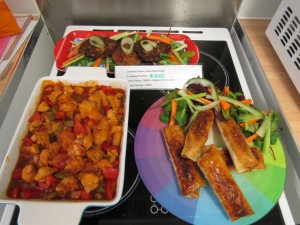 At Key Stage Three, pupils are taught how to use equipment safely and correctly practicing good hygiene and food safety. Food Technology lessons are divided into theory and practical lessons to enrich their learning and practice of Food Nutrition and preparation.
In Key Stage Three every half term has a themed topic such as 'breakfasts around the world'. Pupils will gain a wide range of skills and knowledge providing them with life skills while also getting them ready to take Food Technology as a GCSE option for year 10 and 11.
KS3 Food Technology Curriculum Map
Key Stage 4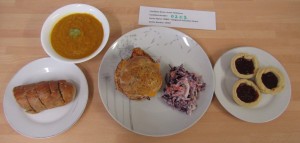 As well as cooking for personal development pupils also have the option of studying Food Technology as a GCSE. GCSE Food Technology allows students to demonstrate their creativity when making food products as well as to gain an understanding of food science and nutrition.
TMBSS use AQA examination board who require pupils to develop their application of knowledge and understanding when developing ideas, planning, producing products and evaluating them.
This course consists of 50% controlled assessments and 50% written exam. The controlled assessment comprise of:
Unit one: Food Investigation worth 15% focuses on researching the properties and function of particular ingredients or processes.
Unit 2: Food Preparation worth 35% focuses on researching a particular topic given by the exam board, demonstration technical skills and well as planning and preparing and creating three meals in a three hour exam and finally evaluating their practical work.
The written exam is assessed on the student's theoretical knowledge of food preparation and nutrition from food preparation skills that are integrated into five core topics:
Food, nutrition and health
Food science
Food safety
Food choice
Food provenance
Upon completion of the Food preparation and nutrition GCSE course, students will be qualified to go on to further study, or embark on an apprenticeship or full-time career in the catering or food industries.
Year 10 Food Technology Curriculum Map
Year 11 Food Technology Curriculum Map
Revision guides:
AQA GCSE FOOD PREPARATION AND NUTRITION REVISION GUIDE
AQA GCSE Food Preparation and Nutrition – Student Book
Grade 9-1 GCSE Food Preparation & Nutrition – AQA Revision Guide
Grade 9-1 GCSE Food Preparation & Nutrition – AQA Exam Practice Workbook (includes Answers)
New Grade 9-1 GCSE Food Preparation & Nutrition AQA Revision Question Cards
Useful Links and Documents
Youtube: BBC Teach: Food Preparation and Nutrition