English
The English language is at the heart of our culture and is the language medium through which most of our pupils think and communicate.
The overarching aim for English at TMBSS is to promote high standards of language and literacy by equipping pupils with a strong command of the spoken and written language, and to develop their love of literature through widespread reading for enjoyment.
Literacy skills are also crucial to pupils' learning in other subjects across the curriculum and despite the pupils' range of knowledge, skills, understanding and ability varying tremendously, all pupils are taught English and expected to take formal qualifications.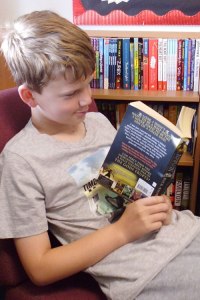 Key Stage 3
At Key Stage 3, pupils are given the opportunity to experience a wide range of reading, writing and spoken language activities across varied themes and genres that embed key skills and concepts. Half termly units of work provide opportunities to explore both fiction and non-fiction texts, including both pre- twentieth century and contemporary literature, poetry and drama. Most pupils are taught as part of a KS3 group rather than as specific year groups and are taught on a rolling three year programme.
Key Stage 4
At Key Stage 4, students will be expected to work towards the completion of formally recognised qualifications that will prepare them for life beyond TMBSS. These qualifications may include AQA GCSE in English Language and Literature, OCR Entry Level Certificate in English and OCR English Functional Skills. This will be dependent upon individual level of attainment, proportion of the course that has been completed prior to attending TMBSS and time remaining before the examination period on arrival. Pupils will be advised on the appropriate level and type of award.
OCR Entry Level Certificate in English at Entry Levels 1-3
AQA GCSE English Language
Pupils may sit examinations though alternative exam boards in some circumstances. This will be decided on an individual basis.
Poetry Project
Refugee poem video
Students from Bridgnorth and Ludlow centres videoed themselves reading the poem 'Refugees' by Brian Bilston. We made masks to hide behind that were made up of faces of people with different gender, race and age. The poem says 'these haggard faces could belong to you or me should life have dealt a different hand' and we felt that this was a really good way to show that refugees could be anyone.
Useful links and documents
Video/audio revision
Revision info/resources/quizzes
Revision Guides
Resources to buy
English Literature
Revision Tips: